WE ARE OPEN – BOOK ONLINE
Slicks & Kuttin Krew Barbershops
We're open. 
Our appointment booking system is now live and be accessed here. Alternatively please call Ricky on 020 8551 0148 to book an appointment.
Your safety is our priority. You can read about the policies and procedures we have in place to protect our customers and staff from Coronavirus here.

Our appointment booking system is now live.
Alternatively please call Ricky on
020 8551 0148 to book an appointment
Slicks Barbers Barkingside
Kuttin Krew Barbers Gants Hill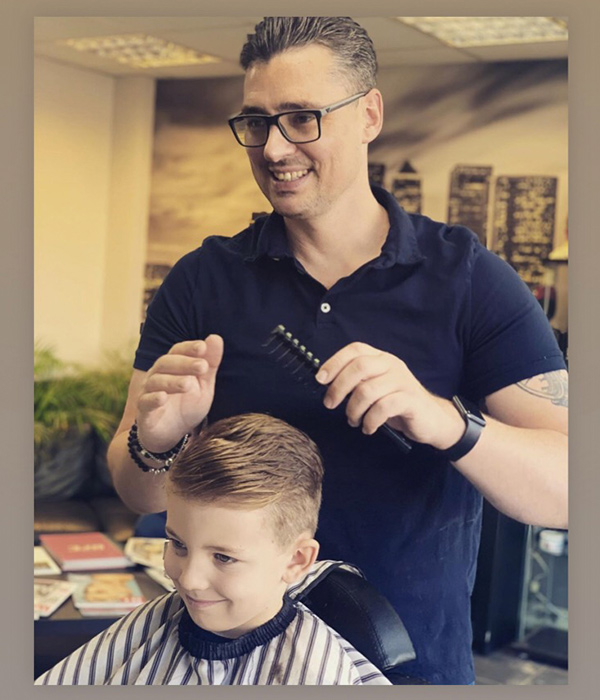 Head Barber / Owner
A 5th generation barber whose family barbering services date back to the late 1800's. Owning Salons in Holloway, Walthamstow, Forest Gate, and more recently in South Woodford, Barkingside and Ilford.
"I have been a barber for the last 25 years. I opened my first shop on Barkingside High Street 22 years ago, before moving up the road to our current premises. As the business grew I took on Kuttin Krew too. It has been a pleasure building up a fantastic clientele who i am pleased to not only call my customers, but also my friends."

*These services are currently suspended but we are continually reviewing government guidance and will re-instate them once it is safe to do so.
We are operating an appointment only system.
Please book your appointment in advance using our online booking system or over the phone.

Your safety is our priority.
You can read about the policies and procedures we have in place to protect our customers and staff from Coronavirus here.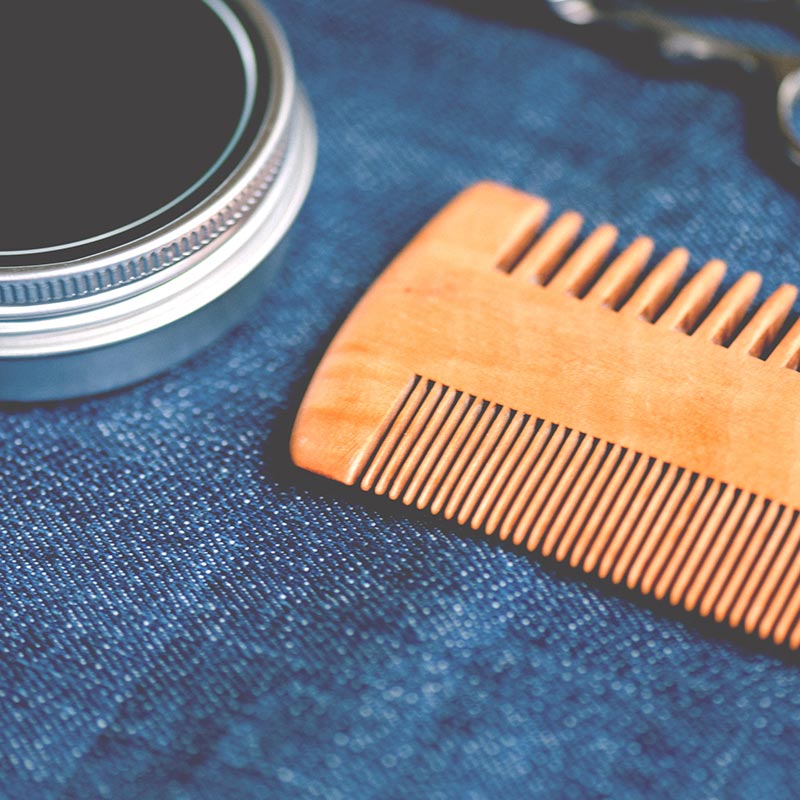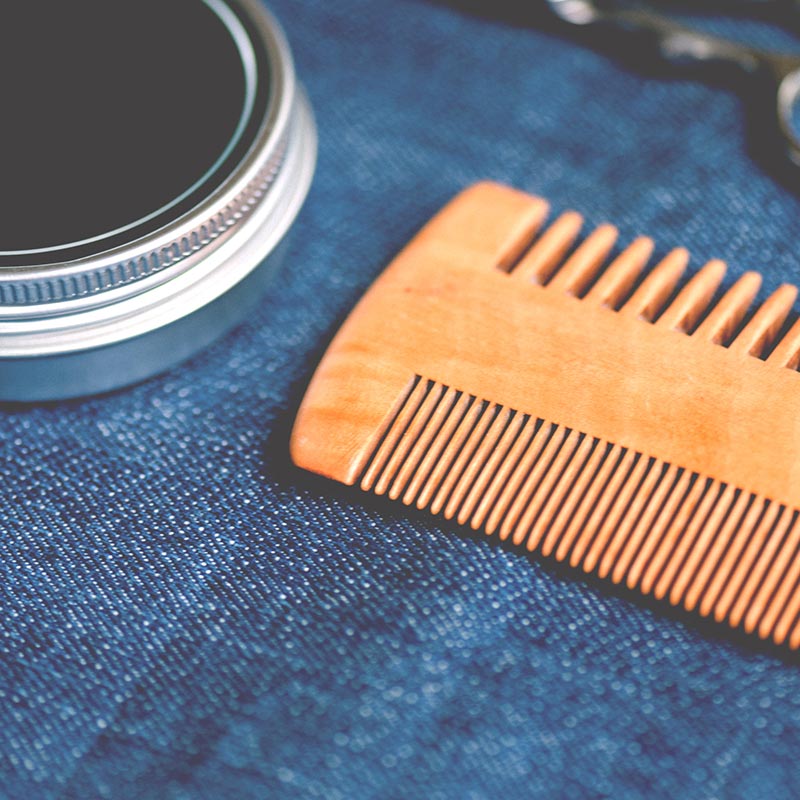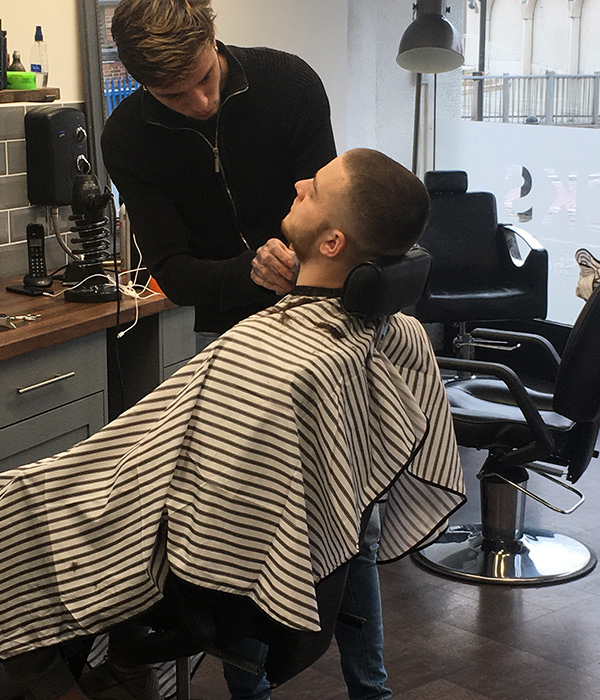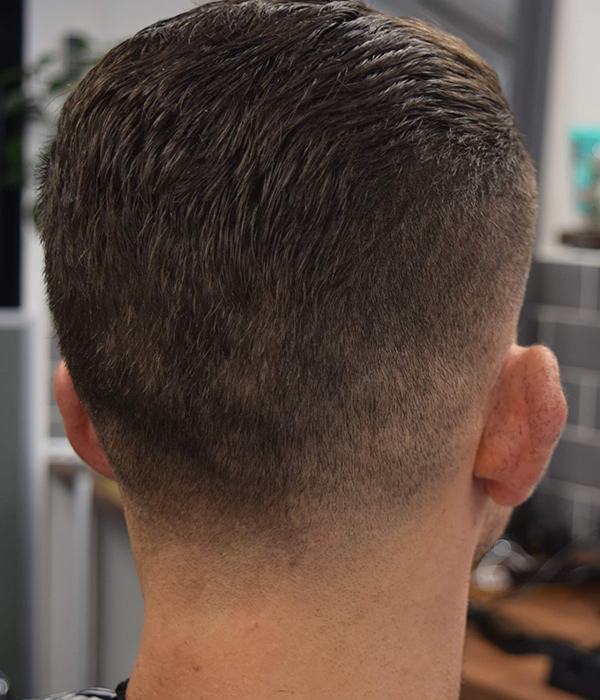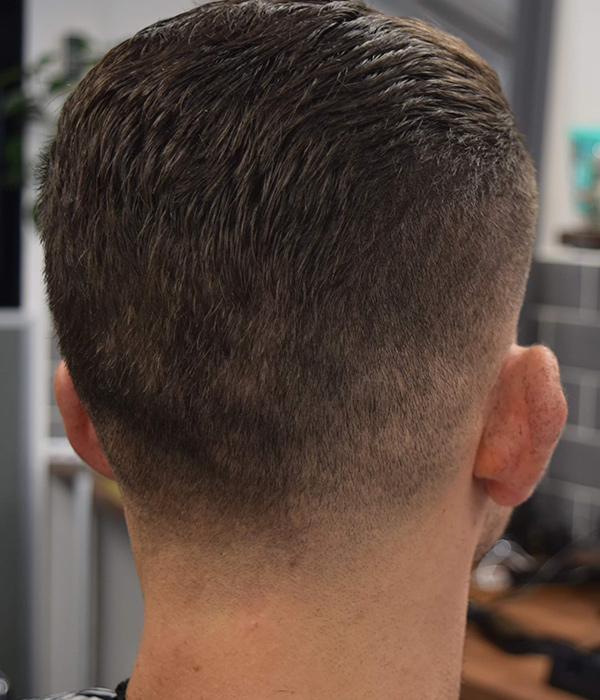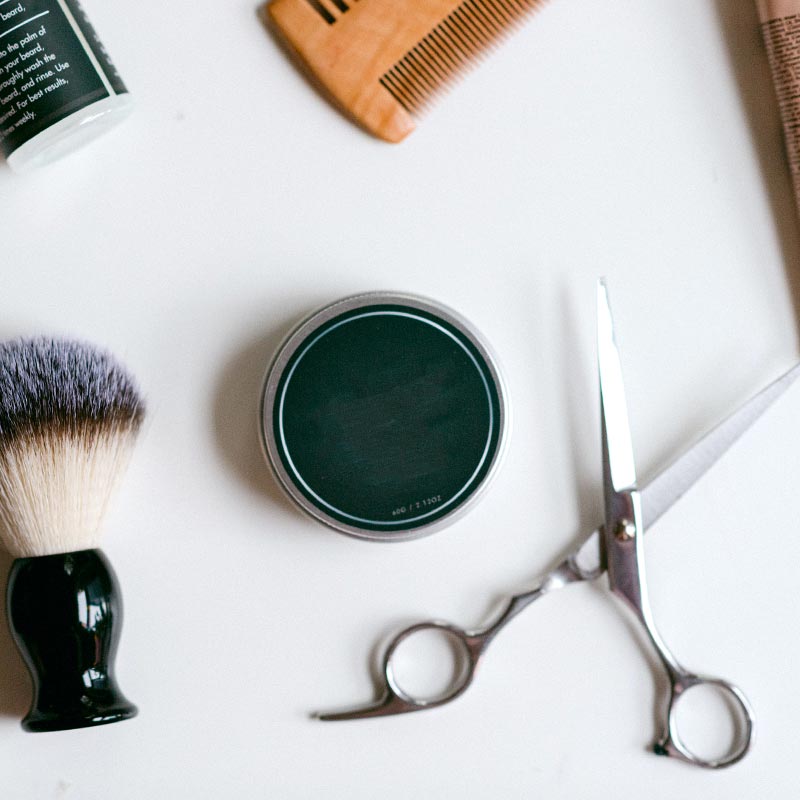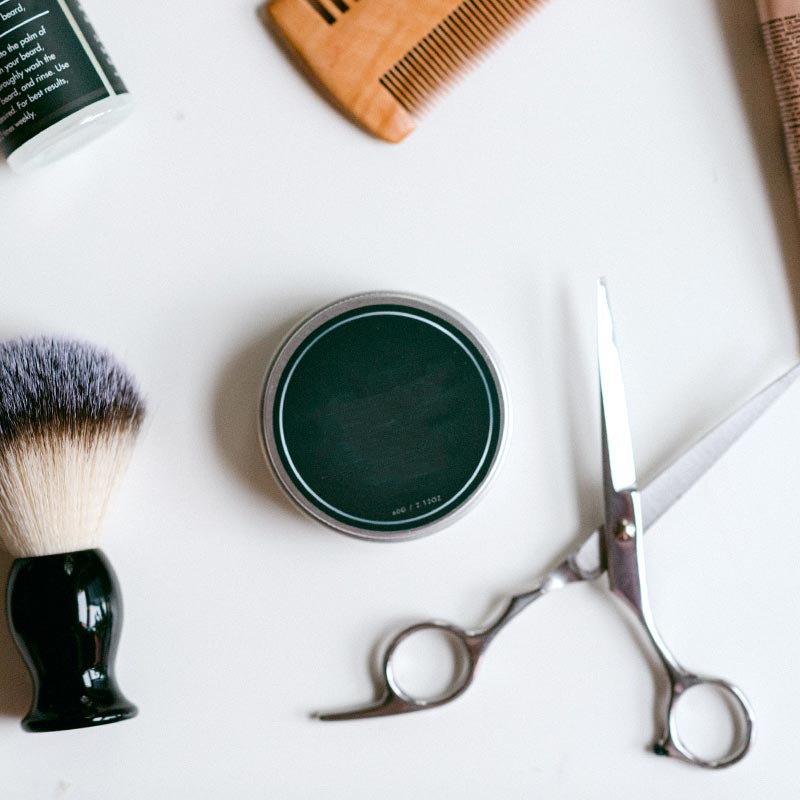 Really friendly people offering professional haircuts and barber services. This is the best out of the bunch in Barkingside.

Highly recommend Slicks for boy's haircuts. Visited twice now, and both occasions was really pleased with the outcome. They got it exactly right.Very friendly, caring staff and relaxed atmosphere, perfect for my 8 year old!

Cari D'souza
14:11 08 Nov 22
Been going there for a long time lovely staff hair cut all ways good recommend

Not been here before, so I booked an appointment on their easy to use website.Had my appointment today with Ricky, and I have to say I'm super pleased with the result! I showed him an image of a screen-shoted style from their online gallery, and he tailored my hair to reflect the image I'd shown him.Calm chat, in and out promptly, and my cut, style and hair dry was very reasonably priced, in fact I'd say it was a bargain these days.I will definitely visit again, Cheers Ricky, keep up the fab work in your salon!

steffydog1
15:08 29 Oct 22
Alison did a great job, highly recommended

irishspread
12:34 24 Jul 22
Great barbers, been my barbers since I was a kid, still haven't changed barbers.

All I have is a haircut. It is always just fine.

Ian Grimson
10:12 02 Jun 22
Great haircuts and very friendly staff. Highly recommended!

James Rowland
16:27 30 May 22
Had my first haircut in Slicks today. Great and nice staff, professional and also very friendly. They got exactly what i wanted, will definitely recommend Slicks to others.

Rick was kind and accomodating, Moreover, it was a great haircut!. Highly recommended

Wollis Vas
18:07 04 May 22
Best barbers in Barkingside

david Jones
10:03 06 Feb 22
Excellent haircut received today from RickyHighly recommend!!

Zain Ayoub
15:30 30 Dec 21
This place is great. Really friendly staff and they are great at what they do. Highly recommend trying them out!

Pete Davis
16:02 03 Sep 21

Kevin Ellis
19:54 20 Jul 21
Great barbershop been coming here since I was tiny and still going now at 28! All staff are lovely too!

matt smith
20:14 19 Jul 21
Very nice. No nonsens quick cut.

Bastiaan Los
09:37 15 Jul 21
Great hair stylist...not that my hair tests him too much....always on time and very friendly. Wouldn't hesitate to recommend...thanks Rick.

Lawrence Park
17:21 12 Jun 21
Got my first haircut from slick, ricky give me a nice haircut definitely come again

Gurdeep Rooprai
17:09 29 May 21
Good experience end very professional the personal form there end very friendly....thank you

Soundwave Schwartzy
16:09 28 May 21
I've been going to Slicks for about 15years and cannot recommend highly enough. They are all very professional and friendly.

Richard Rowe
17:32 26 Apr 21
Been coming here for some time no disappointment here.

Yiannis Lambri
14:05 11 Dec 20

LAMBROS SAVVIDES
23:41 08 Dec 20
Ricky excellent as usual,

Brian Wright
12:19 07 Dec 20

greg fellowes
10:55 05 Dec 20

Reece Lawrence
16:11 31 Oct 20
Allisos a great hairdresser

Brian Beaumont
14:50 23 Sep 20
Found this place in 2016, as I was working in Barkingside back then and have been going ever since, even though I now work miles away and live over the other side of Essex! A good barber is an investment, and I cant speak highly of these guys enough. Professional, friendly, funny and ultimately brilliant at their job. I couldnt recommend them highly enough. You wont be disappointed. Ali in particular is ace, she even helped me name my daughter, what's not to love!! 💇‍♂️❤

Matthew Pritchard
09:26 17 Sep 20
Been getting my hair cut with Rick for years. Perfect cut and exceptional service every time, cannot recommend this place highly enough.

Nikesh Bhatt
11:45 04 Sep 20
I have been going to this salon for years. Lovely people. Great barbers

Simon Forman
21:45 27 Aug 20
Great service, great chat, great environment and most importantly a quality cut . Can't beat Slicks

Luke Rainbird
14:24 23 Aug 20

chemi1 Chemi1980
18:07 06 Aug 20
Best barbers in town.. very friendly staff always feel welcomed and relaxed while having my hair cut and beard trimed 😊

Stephen Lambert
16:26 06 Aug 20
amazing customer service. made me feel very at home and all staff are great company. definitely recommend!

Freya Birmingham
14:45 28 Jul 20
Ricky gave me the best haircut I've had in years, cannot recommend highly enough!!

Simon Ashley
11:24 02 Feb 20
Always a warm welcome and a good cut

Loyal customer of Coz, perfect haircuts as always. A really nice baber shop, cool vibes and great location!

Really friendly and nice trim

Lovely staff, no rivalry and lovely design

Fantastic haircuts for my son and I. Friendly service. Priced fairly.

Val Goodkarma
08:17 06 Aug 19
Always an excellent haircut.

One of best in areas. Tried every single barber in area.


Best in the business . Always spot on !

don algama
15:09 01 Dec 18
They must be good because I keep going back 10/10

Andy Freeman
08:37 11 Aug 18

garryceeify
20:41 27 Jul 18
Always friendly and happy to see you great cut everytime

Jason Steel
08:47 14 May 18
Sit back relax and have a haircut

Yiannis Lambri
10:11 14 Apr 18
Quick professional and stylish, would definitely recommend

Josh Ghatan
21:50 21 Feb 18
The best barbers in Barkingside.

Malcolm Cohen
14:41 12 Nov 17
Friendly proficient staff !

Clive Nash
01:03 31 Jul 17
I now live in Greenwich but whenever I'm down to visit my parents I still come here to get my hair cut. The lady that works there is The best hairdresser 💇

Iaan Butler
14:52 08 Jul 17
Friendly members of staff,well located, I've been there on a number of occasions and had my hair cut by different members of staff and I've always been pleased with the cut

cheyne o'leary
22:40 17 May 17
Known these guys for years. Very Friendly. Excellent staff. They cut my 8 year old sons hair and always impressed with outcome. I normally have haircut, hot towel shave etc I have a beard and they do a fantastic job everytime spend time without rushing. Excellent outcome all times. Thankyou.

Rashad Khan
15:00 23 Sep 16

norbert K.
08:47 25 Feb 23
James is an exceptional barber with extensive barbering knowledge. Easy to talk to and makes you look forward to having a haircut.

James knowledge of religion is great

Sandeep S.
16:29 12 Nov 22

Great! Really recommend 👍

James is a top bloke, freshest trims around

Nathaniel R.
20:12 09 Nov 22
James does the best fades I've ever had

W0LFENITEZ
10:43 05 Nov 22
James is a great barber! Great conversation and experience every time

Best barbers in town. Big up to James on them epic skin fades.

Great haircut always, if you need a trim James is your man.

Harrison L.
10:28 15 Oct 22
Excellent service and upheld good conversation, definitely would recommend to friends


James is an amazing individual, best haircut you'll get, at a super reasonable price.

I've been using this barbers for years now and wouldn't go anywhere else. Very friendly, professional and knowledgeable. He can cut hair and warn you about scalp conditions. I always feel so much better for a haircut or beard trim.

Christopher G.
17:34 14 Apr 22
James the barber was very welcoming and friendly and did a great job would recommend.

Best barbershop in the area with the best barber too, I've never had a bad haircut from James in the 10 years or so I've been coming.

The barber is a very kind and sympathetic guy, furthermore he is very professional. I asked him to get me a haircut, after having shown him a photo of the haircut, he replicated it perfectly and doing even better.

Very good barbers. James always gives great haircuts and is very friendly to talk to. Definitely recommend.

The best barbers within London and Essex. James the owner is amazing at what he does, would never go anywhere else.

Best barbers in Ilford, been going there for years, friendly and great prices. You can't go wrong

My sons have been going to Kuttin Krew since they were young boys who are young men now.James is a wonderful, friendly barber who makes you feel at ease and goes out of his way to accommodate us, he understands different hair textures and which styles will suit best.My boys have NEVER left disappointed and refuse to go anywhere else!

I've been coming here for nearly 9 years and James always cuts my hair perfectly. Thanks guys!

The Barbers are superb, always come out happy good banter as well,

William S.
09:57 13 May 21
Friendly staff and great service.

Been coming here ever since Rick took over 10+ years ago and have always had a great cut and excellent service!!

Dalvinder S.
10:53 04 Nov 20
Have been my barbers for the last 20 years even at different locations. Friendly and excellent service. Rick and his team are good people!

One of the best barbershops in the local area. would highly recommend James and Ross..great guys and a great quality service with years of experience. Would highly recommend to friends and family 👍

I have been coming here regularly since they opened. Excellent service, hair cut just as I want it. Always friendly and very good price. Keep it up guys

Always a really friendly service, an awesome cut at an excellent price!

best haircut ever, and kept the waves along with it trust me there is a barber for everyone here if i had to describe in 1 word then... #NumberOneBarber trust me you need to go here!

Good old fashioned quality barbers!

Ashneel D.
13:28 08 Feb 20

James is my sons favourite

Parmjeet R.
06:18 11 Aug 19
"Great place to get my haircut."

Joshan Hemant P.
15:07 23 Jul 19
Great service and always a great result. James and Ross are great barbers


Best haircut ever from James he cut my hair perfect, brushed the hair off of me and we had a fantastic chat, also very reasonable price!!!!! So happy thanks guys 😁😁



Mo-Yusuf_YT
01:53 30 Dec 18



Made me a MAN. Awesome dudes.

Always a service with a smile. All the guys are great and they are good at what they do.

Always love going here, best place for haircuts, always ask for james!! Would rate higher if i could

Excellent local men's hairdressers. Very skillful hair dressers, reasonably priced excellent service

Clifford H.
08:19 24 Oct 17
Chill people and good cut

TheRickyplayer
10:18 28 Jul 17
World class never had a cut as good